3-Year Apprenticeship Program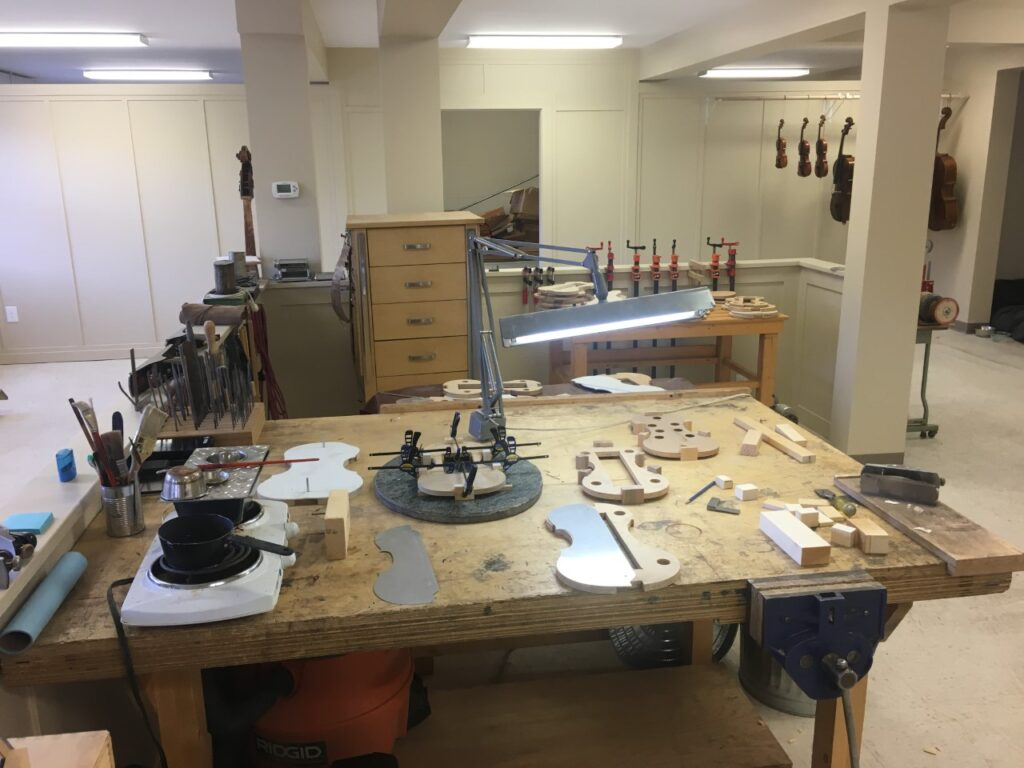 Program
The Canadian Violin Making Institute offers exceptional programming and instruction for aspiring Canadian and international luthiers.
3-Year Apprenticeship Program
September – May
Institution hours: 8-3 Mon-Fri
Total cost: $43,200 ($14,400 per year)
Mount Royal University Cont.Ed. Online Management Diploma (optional, but highly recommended).
Music lessons on an as-needed basis (individual responsibility)
About the program…
Construct 7 instruments (5 violins, 1 viola, 1 cello) – See note below *
Hand tool construction
Varnish making
Materials science
Forestry studies (harvesting, rendering, curing)
Art
Music studies (violin, viola or cello): if required

* NOTE: Students retain ownership of their first and last instruments, for which they supply materials. The CVMI retains ownership of the middle five, for which it provides materials.
Skills Taught
Hand-eye coordination
Hand tool skills (knives, planes, chisels, gouges, files, reamers, scrapers, etc.).
Sharpening
Power tool use, safety and maintenance
Varnish making
Tool making
Jig design and creation
Mould and counter-form design and creation
Purfling making
Draftsmanship
Instrument construction
Program Outcomes
Provide exceptional instruction by helping the student to:
Develop the skills of an employable entry level professional violin maker.
Learn all the tool skills required to construct instruments at an internationally acceptable level (results will vary depending on individual inputs and strengths).
Develop an eye for form and style.
Be exposed to current acoustics studies and measuring systems for instruments.
Be in contact with current professional players and teachers
Develop an understanding for the desired tonal and aesthetic requirements of the violin family.
Develop attention to detail as it pertains to the various classical styles of making.
Learn about violin making history and regional influences.
Develop an understanding for the physical characteristics and tonal properties of a variety of wood species as related to growth conditions, DNA, harvesting, curing methods and rendering.
Understand ergonomics of instrument design.
Understand tonal relations to design characteristics (arching, outline, sound hole placement, string heights and tensions, etc.).
Facilitate different playing styles through optimized instrument set up.
Understand string and rosin characteristics, and their affects on playability.
Understand temperature and weather quality on playability and structural stability.
Repair and maintain instruments at an acceptable professional standard.
Conduct themselves within the boundaries of good business and interpersonal ethics.